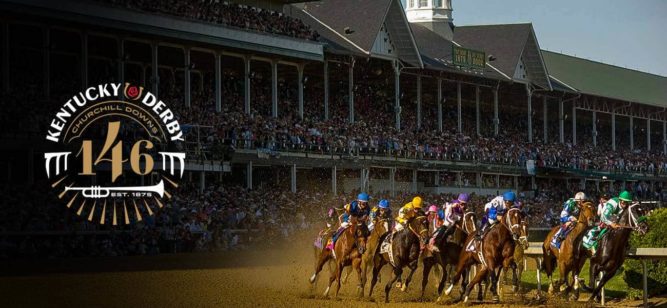 The second leg of the Triple Crown is almost here!
The 146th Kentucky Derby is taking place Saturday, September 5th at Churchill Downs and MyBookie has a variety of betting options for you to choose from.
How to Bet on Horse Racing
MyBookie's Sportsbook has thousands of bets for you to choose from, including all the latest Kentucky Derby lines, props, and futures.
Try our Easy Bet feature to Pick a Winner.
Wager Types
From straight bets and parlays to exotic bets and Triple Crown Specials, MyBookie has a wager for every type of bettor:
Kentucky Derby Straight Wagers: Bet the outcome of the 2020 Kentucky Derby.
Kentucky Derby Exotic Wagers: Place a bet on more than one outcome.
Kentucky Derby Props: Bet on everything from "Margin of Victory" to "What Letter the Winning Horses Name Will Start With".
Triple Crown Specials: Bet on whether or not there'll be a Triple Crown Winner in 2020.
Favorites
Tiz the Law, Art Collector, and Honor A.P. are the current favorites to win the 2020 Kentucky Derby. Tiz the Law won the 2020 Belmont Stakes. Below is the full Belmont Stakes 2020 finishing order:
Tiz the Law
Dr Post
Max Player
Pneumatic
Tap It to Win
Sole Volante
Modernist
Farmington Road
Fore Left
Types of bets for Horse Racing
Simple horse racing wagers feature the traditional win, place and show (first, second and third) wagers. A win wager is exactly that, betting on a horse to win the race. A place wager means betting on a specific horse to finish second or better while a show wager is betting on a particular horse to finish third or better. The minimum amount that can be wagered for any win, place or show bet is $2.
An 'across the board' wager is wagering on a horse to either win, place or show. For example, if you like the No. 2 horse in the second race (Race 2) at Delaware Race Track. You bet $2 on the 2 horse across the board. The total amount of the wager is $6. The horse finishes second and pays $5 to place and $2.60 to show. You get back $5 on the $2 place wager and $2.60 on the $2 show wager. You get back nothing for the $2 win wager since the horse finished second (place) and not first (win).
Betting on a mount to win, place or show is the most traditional way of betting on the ponies. The biggest profits, however, come with exotic betting. Exotic bet mean wagering on combinations to occur in any particular race or in multiple races. The most traditional exotic wagers are the daily double, exacta, the trifecta and the superfecta.
Many race tracks offer bettors rolling 'daily doubles' and that means that you can pick the winner of two consecutive races. Most tracks still offer the traditional daily double and the late double. The traditional double requires horse racing gamblers to pick the winners of Race 1 and Race 2. The late daily double features bettors selecting the winners of the final two races of the day. The daily double is similar to betting a two-team parlay in football. If both horses win, you win the wager. The daily double is also known as a vertical horse racing wager.
When you wager on the first two finishers in a single race, that is called making an exacta wager. Let's say, you like the 6 and 7 in Race 3 at Belmont Park. You make a $2 exacta box wager with the 6 and 7. The exacta box suggests that the 6 horse can finish first and the 7 can finish second or the 7 can finish first and the 6 can finish second. The wager will cost you $4. If race ends with the 6 first and 7 second, or 7 first and 6 second, you win the wager.
Betting on each of the first three finishers in a single race is called making a trifecta wager. For example, let's say you like the 5, 7, and 8 horses in Race 8 at the Fairgrounds in New Orleans and you make a $2 trifecta box wager. The trifecta box will cost you $12 because there are six different combinations and you are betting $2 on each combination. You win if any of the 6 combinations hit in the race: 5-7-8 or 5-8-7, 7-5-8 or 7-8-5, 8-5-7 or 8-7-5.
This wager means you're wagering on the first four finishers in a single race. Superfecta wagering can be quite costly–but also bountiful. A $2, four-horse, superfecta box will cost $48 since there are a whopping 24 combinations that could play out. Superfecta's can also be very difficult to nail.
Most times, horse racing handicappers prefer to use a key horse. Let's say that you like the No. 2 mount to finish first or second and the No. 3 horse to finish first or second in Race 5 at Churchill Downs. You also believe that the 5 and 6 horses will finish either third or fourth in the race. You would then key the 2 and 3 horses in the first two slots (win and place) and put all four of your choices in the third and fourth slots. Your wager would look like this 2, 3 with 2,3,5,6.
This wager provides a dozen (12) different possible combinations. A $2 wager on a superfecta will cost you $24. By using a key horse, you've cut your investment in half for this kind of wager.
Many race books also offers other vertical horse racing bets in addition to the daily double. A Pick 3 wager requires picking the winner of three consecutive races in a row. For example, betting a Pick 3 that starts in Race 1 will cover Race 1, Race 2 and Race 3. Betting a Pick 4 that starts in Race 6 requires picking the winner of Race 6, Race 7, Race 8 and Race 9.
Remember: Bets placed with EasyBet do count towards Rollover. Horse bets placed on the Racebook will not count towards the rollover.